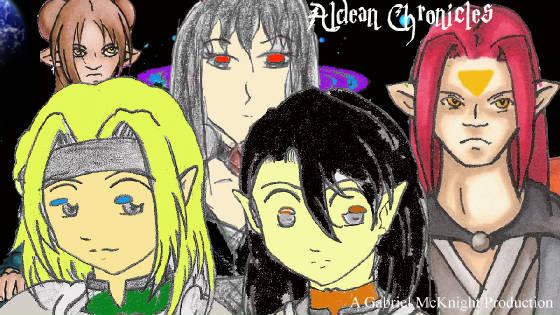 Welcome to the official website of the brand new hit Anime Audio Drama, based on the Anime Short Story Series, Aldean Chronicles. What exactly is Aldean Chronicles?
Throughout space and time, Angels and Demons have fought since Creation. While Earth is still young and not even under the control of the Roman Empire yet, the intergalactic struggle still rages elsewhere. In the M'nar Galaxy, on the planet of Aldea, the struggle between good and evil has heated up. A Holy war has started between the Aldeans ( an Elf race), and the Shi'ado ( very powerful Dragon-like demons; whom are bent on the conquest of the universe). As the forces of good are being wiped out, a flicker of light has appeared on the Relon Continent, that will ultimately change the course of the future...
J.R.R. Tolkien wrote a master piece, and many more. He introduced us to the Elves, and Legends of Aldea has introduced us to a new class of Elves, Aldean Chronicles continues the epic story! (Minor note: Aldean Chronicles is a non-profit series, so we do not take any payments of any kind.
Aldean Chronicles - The Audio Drama is temporarily, currently protected under the official Aldean Chronicles Copyright.
Aldean Chronicles,
Gabriel McKnight, Jai Knight,
A Gabriel McKnight Production;
Copyright 2005,
All Rights Reserved...